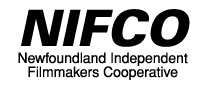 Deadline is November 18, 2016.
Details for the 2016 will be published shortly.
Applications by email only with video links now.
Contact the Coordinator with any questions prior to then, thank you.
2015 Award benefits included:
$7,500 in rental services from Atlantic Studios Cooperative
$2,000 in post production services and $500 towards production equipment rental from the Newfoundland Independent Filmmakers Cooperative.
Note: Only residents of Newfoundland may apply for the Newfoundland Joy Award.